Semmangudi Srinivasa Iyer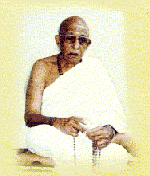 Here is the song "Marubalka" in the raga Sriranjani. This song rendered by Semmangudi Srinivasa Iyer is absolutely fantastic. Just listen to the kalpana swaras at the end and you will be amazed at the sheer motility involved in Semmangudi's music. Semmangudi is a great exponent of manodharma sangeetha which involves Alapana , Tana vinyasa , Neraval and Kalpana swaras. The last two aspects are emphasized in this rendering. Look out for other great renderings by Semmangudi on this page at a later time. This is from a 1968 concert . He is accompanied by Shri Lalgudi G Jayaraman on the Violin.He is the youngest " Sangeetha Kalanidhi " even to this day , being the recipient of this coveted award in 1946 at a rather young age of 38 !
---
The song is composed by the great Saint Thyagaraja.It is set in the ever cheerful Sriranjani which evolves from the 22nd Melakartha raga Kharaharapriya. It will be my arrogance to write about the "Mahapurusha" Saint Thyagaraja. However you can read his biography at http://www.carnaticmusic.esmartmusic.com/srithyagaraja/thyagaraja.htm .
Click here to hear "Marubalka".
---
Here is yet another masterpiece sung by Semmangudi.It is really a soul warming experience to listen to the rendering of the krithi "Marivere Gathi Evvaramma" in the raga Aanandabharavi.This is one of my favourite ragas and a favourite of many others' too.I won't write any comments on its rendering.It is simply great.Just experience it. This magnificent piece is a creation of the yet another great composer Shyama Shastry , who is worshipped as the eldest of the trinity.