Madurai Mani Iyer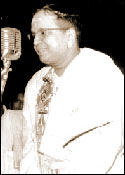 Madurai Mani Iyer was born into a family of great musicians.His uncle was the great Madurai Pushpavanam Iyer , who was a celebrated vocalist in the early 20th century.Mani Iyer developed his music under Shri Rajam Iyer and the celebrated composer Shri Harikeshanallur Muttiah Bhagavathar.Madurai Mani Iyer was known for his extraordinary sense of shruthi which enabled him to produce magical effects in his music.He was a great exponent of singing swaras though he had built up a huge repertoire of compositions of many a great composer.Sarva laghu was the prime factor in swara singing.He lived between 1912 and 1968.His tradition is being carried on into this generation by his nephew and a great vocalist of this era Shri T V Shankaranarayanan.
Read more on Madurai Mani Iyer at these places :
http://www.chennaionline.com/musicseason2k/features/maduraimani.asp
http://www.bharath.com/music/html/carvoc/maduraimani.shtml
---
The krithi sung by Madurai Mani Iyer , that is presented here is a composition of Shri Muthuswamy Dikshitar " Subrahmanyena Rakshitoham Ashtaadasha Lochanaakhandena " in the raaga Shuddha Dhanyaasi.Listening to the krithi and the swaras makes one feel really lighthearted.This song is from a concert given by Shri Mani Iyer at the Palani temple.The accompaniments are not known to me at this point of time.
Click here to listen to Subrahmanyena Rakshitoham.