Chembai Vaidyanatha Bhagavathar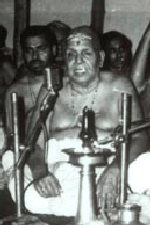 Chembai Vaidyanatha Bhagavathar was a saint in the last generation of carnatic musicians. His style of singing was unique and he often resorted to a lot of experimentation like "Graha bedha" and also he used to sing swaras in a wobbly fashion which is very hard to reproduce by others. His very famous disciple is K.J.Yesudas , a very prominent singer in both carnatic and film based music. The celebrated , multi faceted , Sri T. V Gopalakrishnan and one of the greatest violinists of this era , Sri M.S.Gopalakrishnan also were under his tutelage. Chembai's voice was resonating and was often referred to as " resonating like a pure copper vessel ".He was a staunch devotee of Lord Krishna and of Guruvayur temple. He lived between 1896 and 1974.
You can learn more on Chembai at http://www.bharath.com/music/html/Carvoc/Pages/Chembai.html .
---
The following is a Varna which is usually sung at the beginning of all carnatic concerts. "Viri Boni " is a celebrated composition in the raga Bhairavi and is in Atta tala . All musicians are expected to learn this properly and mastering this requires huge commitment and concentration. The composer of this great Varna is Pachchimiriam Adi Appiah who belonged to the pre Trinity era of carnatic music. The specialty of this clip is that it is sung by Chembai and Yesudas together.
Click here to listen to Viriboni
---
Here is yet another composition sung by Chembai.This song starts with "Paahimam Shree Aanandabhairavi" and is as guessed set in the raaga of Aanandabhairavi.Listening to this gives great mental peace as is always the case with Aanandabharavi sung properly by anyone.